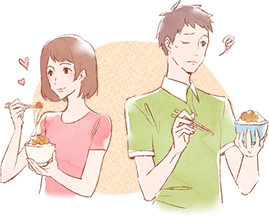 When it comes to natto, people either love it or hate it; there is almost never a middle ground. Despite its image as a classic part of Japanese breakfasts, there are still large numbers of people who claim that they are incapable of eating it. It is certainly not unfair to say that there are few dishes that are this divisive. For example, there are people who dislike miso soup, however no one, however strong their distaste for it may be, would ever use being forced to eat miso soup as reason for, for example, breaking off a relationship. And yet when it comes to natto, on the internet one can find no shortage of people claiming – perhaps partially in jest – that being made to eat natto would be where they draw the line with another person.
Also notable, foreigners who come to Japan almost always find that they are unable to stomach natto, most often because, perhaps more so than any other dish, natto has a very strong character to its taste and smell. That being said, for many it is this very character that draws them to it, as proved by the legions of natto enthusiasts that can be found, strongly promoting their vision of "Natto Life." In addition, many celebrities, such as authors Arashiyama Kozaburo, Shiina Makoto, and others, have spoken of their own opinions on the benefits of natto, saying that it is immensely helpful to their artful use of language.
On the other hand, it is difficult to find someone willing to take their dislike of natto as far as "Death Before Natto." In general, for those who dislike natto, even intensely, they want to simply have nothing to do with it, rather than being explicitly against it. Then there are also those who form their opinions without truly understanding what it is they dislike. Rather than actually trying it, they just prefer not to know and to ignore it.
People who love it are from Kanto, people who hate it are from Kansai?
When it comes to someone liking or disliking natto, a lot of it also seems to come down to location. When it comes to those who love natto, they seem to have their greatest concentration in Eastern Japan, particularly around Tokyo, whereas those who despise it tend to congregate in Western Japan, especially the regions around Osaka. So the greatest indicator of opinion seems to be a person's home. The taste? The smell? Natto's unique sticky, stringy texture? While these may be factors for some, in the end what it usually boils down to is whether or not a person is familiar with natto and has grown up around it.
◇
It was during the Edo Period that natto well and truly became part of the fabric of Japanese daily life. There was of course plenty of trade that occurred between Edo and Osaka, even in those days, however over time natto still came to be recognized as a distinct flavor of Kanto and the majority of natto sold was sold within Edo. Interestingly, though, following the 1868 Meiji Restoration, natto took on another image as a military ration, being widely distributed among the Japanese military during the Sino-Japanese War, Russo-Japanese War, and both World Wars. This trend began to change, however, during the mid and late 1980s. With the discovery of a compound called Natto Kinaze, natto gained a new image as a health food and began to expand even into regions such as Kansai where it had enjoyed little popularity in the past. Thus natto, during the 80s, finally gained its current national notoriety as a breakfast side dish. That said, it still seems that when it comes to people who admit to loving natto, Kanto continues to far outnumber Kansai.