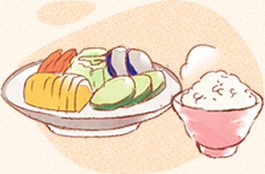 Not just as a side dish, but at times with tea or with alcohol, and of course as the finishing touch to Ochazuke, pickles are an indispensable part of meals. People have a long history of making pickles, with written records existing as far back as the time of the Yamato Imperial Court, though what existed at that time were no varieties beyond basic salted pickles. Rather than specifically attempting to make "pickles," though, the idea behind what arose during this time period was merely to attempt to preserve vegetables through salting.
Pickles are not limited solely to salted pickles, however. Following the Nara Period, with the appearance of miso as well as various types of liquors, there came about a multitude of methods to preserve various vegetables. However despite the expansion of pickling options, pickles were still not available for the common people, being a preserved food reserved for nobles and monks. With the advent of the Heian Period, pickles finally began to permeate into the lives of ordinary people, however there was still no idea like we have now of "pickles" as a unique food item. Rather, they were looked at as " pickled vegetables" or "(salt) soaked vegetables." However, different image or not, they still became a common side dish during this time.
◇
The first major explicit development in pickles occurred during the Muromachi Period. Interestingly, at first glance, this development that led into pickles started out as something completely different – incense, to be precise. There was at that time a sort of game called Monkou, which involved naming the particular wood being burned through only it's smell. Even today, in a manner similar to flower arranging and tea ceremony, there are schools teaching the old methods of this incense burning tradition. It was during the Muromachi Period, then, that this Monkou first began to have notable popularity.
◇
When people speak of pickles, most people's first image is like that of takuan, pickled daikon radish. If you recall the intense smell also carried by takuan, it is not too much a stretch of the imagination to see the relationship between it and the practice of Monkou. Nevertheless, let us explain it more clearly. The truth is that there are a great number of varieties of wood used for Monkou, which can be quite a daunting task for the amateur. Were the player not someone who had truly devoted themselves to the study of the practice, correctly naming the type of wood verges on the impossible, to say nothing of the uninviting. Furthermore, given the sheer number of different types of wood used during even a single event, even someone with a trained and sensitive nose could easily become overwhelmed. If one suddenly introduces the strong smell of pickles, it acts as a sort of palate cleanser for the nose, in much the same way bread is used between glasses at a wine tasting. However during the Muromachi Period, rather than the takuan we know today, what was used was daikon radish pickled with miso, as "true" takuan would unfortunately not exist until the Edo Period.