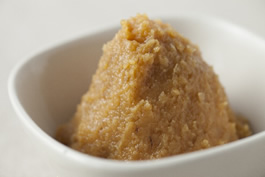 As seasonings, both soy sauce and miso have the same ancestral roots. That said, nowadays the many variations of miso outnumber those of soy sauce. However at the same time, it could be argued that the actual taste of these different miso variations is in fact less diverse – in other words, that miso is perhaps not as fully developed as other seasonings.
◇
Try to imagine the sales floor of some shop. In the case of soy sauce, koikuchi, or "strong soy," has been and continues to be the standard, as is thus the most produced and the most commonly stocked by stores. And yet in contrast, if we look to the miso section, there is a vast variety always on offer – this is the key difference.
In the past, both miso and soy sauce would have been homemade, and therefore every family would have their own unique style and taste. However with the advent of industrialization, the soy sauce companies modernized more rapidly than those producing miso, and thus, in order to make production cheaper and more efficient, the product ranges were made smaller, focusing on the most popular varieties. Miso producers, in contrast, had, even as early as the Edo Period, implemented a system relying on small, local producers. This allowed the preservation of a multitude of regional tastes, which were an outgrowth of the old family recipes. This uniqueness of production methodology is a large factor in the difference between modern miso and modern soy sauce, the currently established flavor of which is in fact a product of the simplification of varieties that accompanied its industrialization. This is a stark contrast to the many varieties of miso, the majority of which are largely the same as when they were being produced by individual families hundreds of years ago.
◇
An important factor in this is also the relative ease of production by hand of miso as compared to soy sauce. Soy sauce was, of course, also made by hand in the past, however the vast majority of it was simply a standard style. This style is now referred to as tamari and is separate from what is now considered standard "table soy sauce." However when compared to the process for handmade miso, tamari is much more time and labor intensive.
There is also one more reason why miso outlasted soy sauce as a handmade product, and that relates to its use at mealtimes. While soy sauce could be used with effectively any food and at any meal, miso remained set aside only for certain side dishes. Soy sauce, as well, is obviously a liquid, whereas miso is a solid. Furthermore, when producing soy sauce, the flavor is the only thing actually extracted from the soybean, while miso, in contrast, is able to preserve many of the nutrients intrinsic to soy.
Given all that, let us think for a moment. Imagine if you will that we have set before us some soy sauce, some miso, and some rice. If you wished to make the rice into a side dish for some larger meal, which would you use to season it, the miso or the soy sauce? Of course, if you were to use the soy sauce, the result would no doubt be perfectly edible, and most likely quite delicious. However in terms of nutritional value, the unanimous winner would have to be the miso. In the past, people made good use to miso's power in their daily lives, despite rarely ever being conscious of the fact that they were doing so. In the case of handmade daily meals, it only makes sense to use more miso. Furthermore, since miso is easier to make, people ultimately chose to buy soy sauce and make miso themselves. There you have it…the same origin, yet two very differents paths of development.